People
DREDF would have little to highlight this year — or any year — if we couldn't draw on the vast talent of our co–counsel, allies, and friends. We were incredibly fortunate to welcome a host of wonderful new Board members:
Jim LeBrecht, Dorene Giacopini, Kathi Pugh, Alice Wong,
and
Christina Mills
, after we reluctantly said good-bye to long-time Board leader,
Jenny Kern
. (And we are gratefully holding onto continuing Board members
Claudia Center, Vikki Davis, Ann Cupolo Freeman
, and
Cheryl Theis
!) We delighted in multiple collaborative projects with the
National Council on Disability (NCD)
, and funding partners such as
Special Hope Foundation
and
The Manuel D. and Rhoda Mayerson Foundation
. Finally, we were overwhelmed by the generosity of
Senator Harkin
and
Congressman Miller
, and the entire
community
that celebrated with us at our
35th Anniversary
.
Legal Advocacy
Cases
♦ DREDF and Brown, Goldstein & Levy, in representing the National Federation (NFB) of the Blind, reached an agreement with the US Department of Education that commits the DOE and its contracted student loan servicers to make websites, forms, and documents related to its Direct Loan program accessible to blind applicants and borrowers.
♦ DREDF launched a Centers for Medicare and Medicaid Services (CMS) healthcare investigation involving inaccessible applications, notices, forms, outreach materials, web–based information, telephonic communications, and other communications provided by any contracting Medicare or Medicare–Medicaid plan. As a result, CMS and the HHS Office of Civil Rights (OCR) announced a "COMMITMENT TO ACTION TO RESOLVE DREDF SECTION 504 COMPLAINTS." DREDF lauded this first step and is monitoring the process while continuing to gather information about the experiences of blind and vision–impaired healthcare consumers.
♦ In continuing collaboration with the American Diabetes Association and other allies, DREDF advanced the 2013 precedent set down by the California State Supreme Court in American Nurses Association v. Torlakson that ensures students with diabetes receive the proper care they need to be healthy and medically safe at school. The Court's unanimous decision regarding K–12 public schools is now changing pre-school and other childcare policies for the better — a result that we intend to further support the rights of many people living with other chronic conditions and/or disabilities, including those that are age—related.
♦ DREDF submitted a special education compliance complaint against the California Department of Education (CDE) on behalf of Jane Doe and John Doe, two very young students who have endured emotional, physical, and psychological harm due to the unlawful use of physical restraints and numerous due process violations by the Mount Diablo Unified School District (MDUSD). This case reflects the painful reality that school districts across the Bay Area are placing young students with behavioral and emotional disabilities into segregated, specialized classrooms where, instead of receiving intensive individualized services and supports, they are subjected to repeated physical restraint and seclusion.
Comments
♦ In concert with our extensive education advocacy training, DREDF submitted comments to the U.S. Department of Education regarding actions the Department should take to address significant disproportionality based on race and ethnicity in the identification, placement, and discipline of children with disabilities.
♦ DREDF submitted comments on the U.S. Department of Justice (DOJ) proposed regulations implementing the Americans with Disabilities Act (ADA) Amendments Act of 2008.
♦ DREDF joined with IOLTA–Funded California disability advocacy organizations in submitting Court Technology Governance and Strategic Plan Comments on the risk that current rapid technological developments pose to people with disabilities' access to the courts.
♦ DREDF submitted comments on the National Park Service (NPS) Notice of Proposed Rulemaking (NPRM) to implement the National Park Service Organic Act of 1916, and bring its service animal provisions in line with existing federal disability rights laws.
Amicus Curiae
Each year DREDF files or joins other groups to submit Amicus Curiae ("Friend of the Court") Briefs in disability rights and other civil rights cases where the court's decision will have implications for the rights of people with disabilities. Amici submitted addressed issues such as retail access; the impact of racial stereotypes and implicit biases in the administration of justice, including but not limited to the jury system; cy pres standards; and the FHAA definition of "disability."
Public Policy Advocacy
Legislative Positions
♦ DREDF supported Community Prevocational Services for People with Developmental Disabilities (SB 577) that was subsequently signed into law. It will create a new service funded by the California regional centers that allows providers to assist consumers individually to prepare for employment. This new category could be used to put together micro–enterprise opportunities and to fund the discovery phase of customized employment for people with developmental disabilities.
♦ DREDF joined with other members of the Consortium of Citizens with Disabilities (CCD) to oppose the Helping Families in Mental Health Crisis Act (HR 3717) (PDF) that remains in committee. DREDF also organized opposition on the basis that it purported to aid families of individuals with serious mental health conditions, but actually contained numerous provisions that would eliminate significant and necessary protections for these individuals.
Healthcare Access
Improving Access to Health Care for People with Disabilities
DREDF released self—directed healthcare training modules for aging and disability organizations to help senior, disability, and affinity organizations to develop their capacity to assist people with disabilities access health care and long–term services and supports (LTSS).
Count Us In: Preserving the Census Bureau's Disability Questions
DREDF collaborated with CCD and the Partnership to Improve Patient Care (PIPC) to defend the Census Bureau's six disability questions (PDF) from attack.
Webinar Series and Advocate's Guide to California's Coordinated Care Initiative
Implementation of the Coordinated Care Initiative (CCI) in California is now underway in Los Angeles, Riverside, San Diego, San Bernardino, and San Mateo counties. Advanced Training webinars and the Guide, provided by DREDF and the National Senior Citizens Law Center (NSCLC), provide the most recent information on the CCI.
Disability Guide and Factsheets for Federal Marketplace Navigators
DREDF, in collaboration with the American Association on Health and Disability (AAHD) created the Guide to Disability for Healthcare Insurance Marketplace Navigators and 15 substantive fact sheets on topics such as getting and using health plan evidence of coverage and the process for Medicaid eligibility.
Barriers and Solutions to Care

Focusing on widespread barriers to care, these three, short video excerpts from our acclaimed HEALTHCARE STORIES series feature stories about inaccessible examination tables and weight scales and healthcare provider misperceptions and stereotypes. Advocates and practitioners alike recount their personal experiences and recommend actions for improving care. These downloadable videos present an all–important human perspective and affirm the barriers to care identified in a decade of research. DREDF was proud to hold a screening at UCSF.
Building on the ACA's Promise to Reduce Health and Healthcare Disparities
With support from the Special Hope Foundation, DREDF planned, organized, and held a small, invitation-only meeting of 17 health policy experts in order to identify a targeted legislative, policy, and litigation agenda aimed at spurring improvement in healthcare services and facilities for people with disabilities, including people with developmental disabilities (PWD/IDDs). Participants included representatives from aging, low–income, developmental disability, mental health, and research along with leaders in the disability rights policy and advocacy communities.
Nothing About Us Without Us: Bioethics Edition
Partnering with multiple allies, DREDF legal and policy staff members organized and presented at the first Disability Rights Leadership Institute on Bioethics (DRLIB) that brought together about 65 US disability rights advocates to learn about and discuss issues as diverse as withholding and withdrawal of life-sustaining treatment based on disability status, disability discrimination in organ donation, the legalization of assisted suicide and the threat it poses to both the disability community and the public at large, and the multiple mind-bending issues posed by new reproductive technologies.
Transportation Access
A Matter of Life and Death: Out–of–the–Water Survival Craft
After submitting its letter (PDF), DREDF organized a response to the House of Representatives Subcommittee on Coast Guard and Maritime Transportation on an important issue that is new to many of us: that US Coast Guard rules require passenger vessels to maintain survival craft that keeps the individual's body out of the water, not just afloat (think Titanic–like conditions).
Best Practices in Public Transportation Access
DREDF completed two federal research projects on ADA transportation; one, as a partner on the "Strategy Guide to Enable and Promote the Use of Fixed–Route Transit by People with Disabilities" and, on the other, as a prime contractor in the "Accessible Transit Services for All" (ATSA) project.
Driving Transit Policy Into the 21st Century
♦ DREDF led workshops on ride–share policies and practices at the NCD's quarterly meeting in Berkeley, and weighed in on proposed BART changes; we also advised transit advocates in Texas, and educated the public through the media about issues with Uber, Lyft, and other companies.
♦ On behalf of NCD, DREDF conducted research aimed at identifying and addressing technological, policy or attitudinal barriers related to driverless cars, making sure that people with disabilities are part of this transportation revolution.
Education Access for Students with Disabilities
The Hard Lessons of Disproportionality That Students of Color Learn in School
DREDF continued its work to disrupt the school—to—prison pipeline for students of color with disabilities through collaborating with NCD in organizing a school—to—prison pipeline convening in Atlanta in October 2014 with special education attorneys, consultants, and advocates from all across the country providing testimony to assist the NCD members in formulating draft policy recommendations on how to end disparities in discipline and promote positive outcomes for minority students of color with disabilities. DREDF will take the lead in drafting the policy recommendations. The Pipeline has been an area of focus for DREDF over the past several years because we see an inherent connection between the quality of
special education services (or lack thereof) and outcomes for students of color with disabilities.
Outreach, Education, and Advocacy Training
♦ DREDF's 27th year as a designated Parent Training & Information Center (PTI) resulted in more than 500 parents, family caregivers, and child welfare professionals becoming skilled advocates for a student with a disability in a public school, improving educational access and long–term self–sufficiency.
♦ Our Foster Youth Resources for Education (FYRE) program began its second decade of fighting for the rights of foster youth disabilities, using strategies we pioneered.
♦ Training highlights include: DREDF's Education Advocates held 10 free monthly "Understanding the Special Education Process" trainings at the Ed Roberts Campus (ERC) and produced 10 issues of our digital newsletter, Special EDition that provides guidance and resources on key topics to over 4,000 subscribers.
Get on the Justice Bus
DREDF's Equal Justice Works Legal Fellow partnered with One Justice's Equal Justice Bus project to hold a special education legal clinic in Yolo County. This clinic provided DREDF with the opportunity to train pro bono staff from Fenwick & West on special education law and resulted in a record–setting number of families assisted.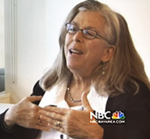 No More Delay and Deny
Arlene Mayerson was interviewed for an in–depth investigative report by NBC Bay Area News on the state of special education. Focusing on the problem of public schools' tactic of "delay and deny," the piece features Mayerson and Education Advocate Ann McDonald–Cacho.
Global Human Rights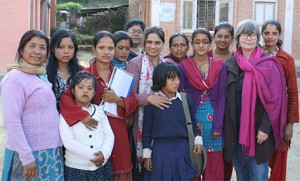 ♦ Executive Director Susan Henderson traveled to Nepal, Tanzania, and Kenya in the last year through collaborative projects aimed at disability human rights information exchange.
♦ DREDF, with Mobility International USA (MIUSA) and United States International Council on Disabilities (USICD), was awarded a grant by the US State Department for its collaborative project, "RightsNow! Strong Communities Through Enforcing the Rights of Persons with Disabilities," that will develop tools, training, resources, and networks of disability leaders to advance the rights of people with disabilities through effective implementation and enforcement of legislation. This consortium will strengthen the implementation and enforcement of disability rights legislation and the UN Convention on the Rights of Persons with Disabilities (UNCRPD) at national and local levels in Kenya, Mexico and Vietnam. This work builds on DREDF's ongoing domestic leadership on US ratification of the UNCRPD.
Community Recognition
Mary Lou Breslin: 2013 Purpose Prize Fellow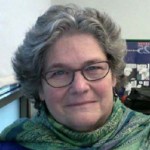 "I knew going into this new career that to reverse deeply entrenched policies and attitudes would take a long time," Breslin says. "After almost a decade of policy advocacy, research and training and collaborations, we can report some important incremental changes—and a few splendid victories."
Arlene Mayerson Receives International 2014 Henry Viscardi Achievement Award
Directing Attorney Arlene Mayerson received the 2014 Henry Viscardi Achievement Award for her work as an exemplary leader in the disability community whose body of work includes foundational disability civil right laws, and who continues to guide emerging law.
White House Honors Marilyn Golden as a Champion of Change
Senior Policy Analyst, Marilyn Golden was honored as a White House Champion of Change — Ladders of Opportunity for her 30+ years of visionary transportation system-change advocacy. Her blog post discusses segregation, the disability rights movement, structural barriers (including transportation), and the effects of inequitable funding.
2014 Legal & Undergraduate Interns and Volunteers
The Next Generation: DREDF was ably assisted by such an outstanding group of interns that our hope for the future was renewed! (As our interns always do.) Nicely done, Casey O'Shea, Melissa Perry, Jon Drennan, and Jan Kawano.
Volunteers: Once again, DREDF benefited from the year–long service commitment made by Lutheran Volunteer Corps members; this year, we thank Michael Hourani and Alex Davenport, and welcome Abby Robbins. We're also deeply appreciative of year–round volunteer Sophie Best, and event volunteers Mayona Engdahl, Rosie Ueng, Molly Quinn, the too–many–to–list staff and family volunteers, and the entire ERC community.