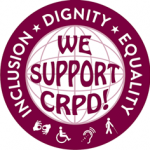 Thank you to everyone who attended the November 5th hearing! The turn-out in support of the treaty was incredible. We must show up again in big numbers for the next hearing. Due to scheduling conflicts, the second hearing expected for next week has been delayed. We hope to be able to share a new date with you soon. Remember, we are in a marathon – not a sprint – and we must keep pressure on!
We need your help for a call-in day on Tuesday, November 12th
Senators Menendez and Corker and our target senators on the Foreign Relations Committee still need to hear from you and know that you support the CRPD!

Help keep the process moving forward! Please call on November 12th to show the Foreign Relations Committee that the community is behind this treaty.
Senator Corker at 202–224–3344
Senator Menendez at 202–224–4744
Use our new citizen action portal to call the target Senators on the Foreign Relations Committee: Senators Flake (AZ), Johnson (WI), Rubio (FL) and Risch (ID)!
Forward this message onto your lists of friends and colleagues so they can join us in sending a message to the Foreign Relations Committee that we are watching them! We will keep you informed when a new hearing date is set. Thank you for your help!
Share the "We Support CRPD" icon above! Post it on your website, Facebook, and Twitter.
The Marathon continues!
Your voices must continue to be heard NOW!