Seeking Candidates for Summer 2018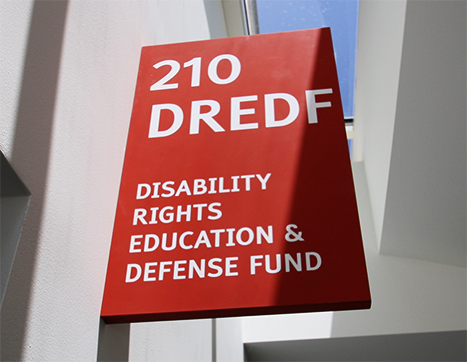 The Disability Rights Education & Defense Fund (DREDF), located in Berkeley, California, offers field placement internships and summer positions for law students.  Academic term internships generally involve a commitment of 8 to 16 hours per week.  Summer internships generally involve a 40-hour per week commitment for at least 5 weeks, and preferably 8 to 10 weeks.  Individuals with disabilities, minority, and women candidates are especially encouraged to apply.
Stipends are available on a limited basis for summer interns who cannot otherwise secure summer funding.  We request that interns first explore and apply to other funding sources that they identify.  We are happy to provide confirming letters or other supporting documentation to interns seeking public interest grants from other sources.
Founded in 1979 by persons with disabilities and parents of children with disabilities, DREDF is a non-profit law and policy organization dedicated to advancing the civil rights of individuals with disabilities.  We work through legislation, litigation, informal and formal advocacy, and education and training of lawyers, advocates, and clients with respect to disability issues.  Since 1988, DREDF has taught disability rights courses at Bay Area law schools (currently involving a seminar course offered periodically at U.C. Berkeley Law School), and has offered clinical legal education experience. 
Interns work on a variety of litigation projects under the supervision of DREDF attorneys, including disability rights class-action and individual cases.  Substantive issues may include architectural access, education (including special education and higher education), employment, access to government benefits and services, health care, housing, public accommodations, transportation, and technology access.  Projects include researching legal issues, drafting documents for discovery (e.g. interrogatories, requests for admissions, and requests for production of documents), and drafting legal motions and pleadings.  Interns will have direct contact with clients, and the opportunity to observe or participate in meetings, depositions, and court proceedings related to litigation on which they are working.
DREDF attorneys regularly receive requests from lawyers around the country who are seeking advice and assistance on cutting-edge disability rights issues.  Interns may be included in telephone calls and strategy sessions responsive to these requests.  With the close supervision of attorneys, interns may also respond to telephone inquiries about disability discrimination or special education issues that callers with disabilities or parents of children with disabilities are facing, and may provide informal advocacy on clients' behalf.  Interns are also invited and encouraged to join DREDF staff in attending disability community events and meetings that occur during their period of internship.
Interested candidates may submit cover letter, resume, references and writing sample by mail, e-mail or fax (e-mail preferred if possible).
Please indicate "Attn: Law Student Internships (YOUR LAST NAME)" in the subject line of e-mail submissions.
Contact Information:
Disability Rights Education & Defense Fund (DREDF)
3075 Adeline Street, Suite 210
Berkeley, CA  94703
(510) 644-2555 (Voice)
(510) 841-8645 (Fax/TTY)
info@dredf.org (e-mail)