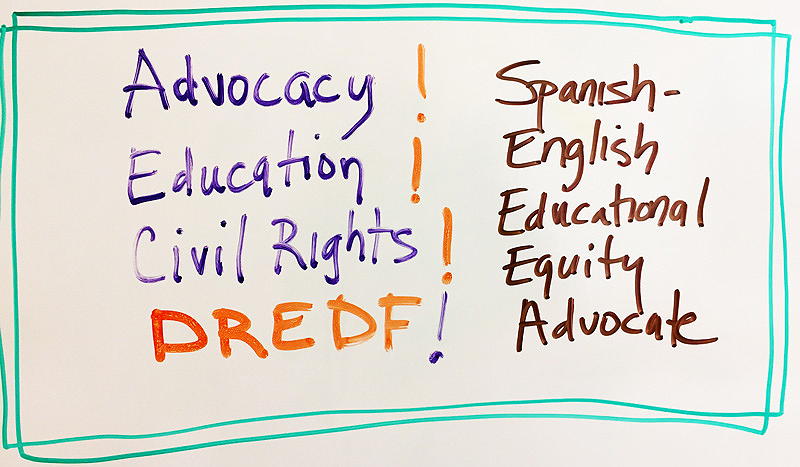 DREDF is looking for a part-time bilingual Spanish-English advocate to assist families with children with disabilities navigate the special education system. 
Title: Educational Equity Parent Advocate — Bilingual 
FTE: This is a part-time position, 20 hours, with potential for more hours. 
Through training and individual assistance, our Bilingual Educational Equity Parent Advocate assists, educates, supports, and encourages parents from isolated and traditionally un-served families to become effective advocates for their children with disabilities so that they can make good informed decisions as a member of school IEP teams. 
Candidates should have a strong connection to the community served and be knowledgeable about resources, services and supports for families. We will provide you with training on civil rights laws, advocacy and presentation skills.
Responsibilities: The Bilingual Educational Equity Parent Advocate will:
Conduct trainings for parents of children with disabilities and professionals who work with disabled children and their families on the rights of their children under federal and state special education laws and strategies for exercising these rights
Provide one-to-one assistance primarily via telephone, to parents, kin care providers, and others on the rights of children with disabilities 
Coordinate and collaborate with local, state and national parent, civil rights and disability organizations on issues affecting the needs children with disabilities and their families
Collaborate with local agencies and organizations including the public defender's office, Bay Area Legal Aid, probation, school districts, and court schools for incarcerated youth
Develop and conduct outreach programs to marginalized and monolingual families 
Collaborate in writing parent newsletters addressing issues and concerns of families 
Conduct public awareness and information activities 
Collect data and maintain paperwork for evaluations and grant reporting purposes 
Qualifications:
Ability to work and relate well with families of diverse backgrounds
Spanish-English fluency 
Ability to read and understand relevant laws, regulations, policies and guidelines 
Well organized and able to manage a variety of tasks 
Ability to collaborate effectively with school districts, community based organizations, parents, youth and county agencies
Knowledge of the Individuals with Disabilities Education Act (IDEA) and experience with its day-to-day implementation
Demonstrated understanding of a variety of disabilities and their affect upon children and their families 
Experience providing assistance and advocating on behalf of others
Flexible schedule needed to address family availability for workshops and clinics – some evenings and weekends 
Priority given to applicants coming from or with direct connections to the targeted communities
Compensation & Benefits
Salary is commensurate with experience. Actual salary will depend on qualifications.
Currently, for employees working 50% time or more, DREDF pays 80% of medical and 100% of dental and vision insurance. Other benefits include paid vacation, sick leave, paid holidays, 403(b) retirement savings.
Application
Please e-mail a cover letter and resume to Susan Henderson at shenderson@dredf.org.
DREDF is an Equal Opportunity employer and we encourage individuals with disabilities and people with diverse life experiences and backgrounds to apply.