1978-1979
You Gave Us Your Dimes, Now Give Us Our Rights | top
First national legal services back-up center for disability rights is established at the Center for Independent Living, Berkeley, California.

1979-1980
Onward From California: DREDF Starts Up And Shouts Out | top
DREDF founders convene meeting of national civil rights leaders, who identify need for national disability rights defense fund.
We establish a Washington office to extend the work of its California headquarters to the nation's capital.
DREDF organizes parents and for the first time in the country, successfully presses the U.S. Department of Education to hold up federal funds until California complies with federal special education laws.
We join the Executive Committee of the Leadership Conference on Civil Rights (LCCR).
DREDF runs the Women's Educational Equity Act (WEEA) project, producing the landmark book No More Stares about the experience of girls and women with disabilities.
1981-1986
Standing Our Ground; Fighting Back, Holding The Line | top
Reagan administration targets civil rights protections of Section 504 regulations and the Individuals with Disabilities Education Act (IDEA). Section 504 of the Rehabilitation Act was the first federal law prohibiting disability-based discrimination by recipients of federal funds.
DREDF undertakes high-level negotiations and community organizing to defeat administration efforts to block Section 504. Disability community nationwide sends 40,000 letters to the White House protesting the deregulation attempts.
With parents of disabled children, DREDF organizes demonstrations across the country to stop Reagan administration attempt to weaken protections for schoolchildren contained in the Individuals with Disabilities Education Act (IDEA).
DREDF joins LCCR effort to reverse negative Supreme Court decisions (including Grove City) affecting minorities, women, and people with disabilities.
DREDF leads charge to reverse Supreme Court decision (Smith v. Robinson) which undermines the ability of parents to challenge school district decisions regarding their disabled children. Result is the Handicapped Childrens Protection Act (HCPA).
DREDF leads the disability and civil rights communities to coordinate and write briefs for disability cases in the Supreme Court; DREDF's briefs represent members of Congress.
DREDF organizes briefs and prepares lawyers in Darrone, the first disability civil rights victory in the Supreme Court.
1987-1990
Forging Ahead, Beyound Our Wildest Dreams | top
DREDF establishes Disability Rights Clinic in conjunction with Bay Area law schools (Boalt Hall, UC Davis, Hastings, Golden Gate and Stanford) to train the next generation of disability rights lawyers.
DREDF begins litigation strategy to establish the right of children with disabilities in school to attend regular education classes.
DREDF represents members of Congress and coordinates a national amicus effort in a Supreme Court case (Arline) that establishes the right of individuals with HIV infection to be covered by disability civil rights laws.
DREDF represents disability civil rights community in negotiations to amend the Fair Housing Act to include people with disabilities. For the first time, this law gives disabled people the right to live in the community free from housing discrimination and establishes access standards for new housing construction.
DREDF coordinates the coalition to re-write, negotiate and pass the Americans with Disabilities Act the first comprehensive national civil rights law for people with disabilities.
1991-1998
No Right Without A Rememdy: Implementation | top
The U.S. Department of Justice (DOJ) and Equal Employment Opportunity Commission (EEOC) acknowledge DREDF's expertise by awarding ADA national training and technical assistance contracts to DREDF, funding the ADA Hotline and leadership training network.
DOJ and the National Endowment for the Arts contract with DREDF to produce the ADA training film Open for Business.
DREDF publishes The Americans with Disabilities Act: A Guide to Implementation, also known as the "Blue Book," which becomes the standard ADA training manual throughout the country.
Americans with Disabilities Act Annotated: Legislative History, Regulations and Commentary by DREDF Directing Attorney Arlene Mayerson, is published. It remains the most comprehensive legislative history of the ADA.
DREDF prepares comments for over 500 disability rights organizations on ADA regulations proposed by federal agencies.
DREDF brings in a series of litigation victories that establish the right of disabled children to be educated with non-disabled children and to be free of abusive treatment in schools. One case, Holland v. Sacramento City School District, establishes a national precedent for full inclusion of children with disabilities in regular classes.
DREDF breaks ground by using ADA litigation to establish the right of children with disabilities requiring health care assistance (such as diabetes and asthma) to receive such assistance in pre-school and recreational settings.
NCD calls upon DREDF expertise to study federal enforcement of these disability civil rights laws: the ADA, IDEA, FHAA and Air Carrier Access Act.
DREDF expertise is called upon worldwide by disability advocates DREDF staff go to Germany; Austria; Switzerland; Tuzla and Sarajevo, Bosnia/Herzegovina; Israel; South Africa; Vietnam; Saipan; Palau; Pompaie; Guam; Japan; Sochi, Russia; Australia; New Zealand; Hungary, and Cuba.
DREDF ADA litigation opens doors to stadiums, trains, movie theaters, hotels, banking services, and gas stations nationwide for people with disabilities.
HUD hires DREDF to undertake a fair housing testing project.
1997-1999
Implementation Firsts And Challenge Reversals | top
DREDF plays leadership role in fighting back weakening amendments and securing positive advances in IDEA Amendments Act of 1997.
Litigation results in comprehensive settlement securing basic educational rights for special education students in East Palo Alto and other communities, and holds the California Department of Education accountable in ensuring those rights.
DREDF plans an international legal conference to spread the word about disability rights legislation to countries around the world.
DREDF represents members of Congress in a trilogy of Supreme Court cases involving the definition of disability under the ADA.
DREDF joins effort to ensure civil rights protections in legislative proposals to eliminate the work disincentives in current disability benefit programs and to establish the right of people with disabilities to income support services.
DREDF works with community and legal groups to challenge the continued institutionalization of disabled residents in San Francisco and to create community-based alternatives.
2000-2007
Recommitting To Meet The New Challenges Ahead | top
In 2000, DREDF convenes "From Principles to Practice", a landmark international disability rights law and policy symposium in Washington, DC that brings together advocates and people with disabilities from 58 countries.
As a strong and consistent voice for disability rights in courts of law and in the court of public opinion, in seats of government and in grassroots community, DREDF continues to shape the legal and policy strategies needed to defend the ADA and promote its vision in the United States and worldwide.
DREDF works with disability rights groups nationwide to respond to the Court's decisions narrowing the applicability of the ADA.
DREDF spearheads the efforts to keep parents and families informed at every step of the Individuals with Disabilities Education Act (IDEA) reauthorization through our Rapid Response Network of briefings and action alerts.
DREDF works with members of Congress and national disability rights advocates to restore the ADA in the face of challenges from the U.S. Supreme Court.
We work in coalition with disability advocates across the country to implement Olmstead plans that ensure the rights of people with disabilities to remain in their homes and communities rather than in institutions.
We initiate projects to ensure access for people with disabilities to healthcare services and facilities.
DREDF works with the National Association of People with AIDS (NAPWA) under the sponsorship of UNAIDS to look globally at the uses of disability law and policy to combat HIV/AIDS stigma and discrimination.
We work in coalition with racial, economic, and environmental justice groups to understand the intersections between discrimination and prejudice, poverty, environmental toxins, and social justice, and to seek solutions that will improve the lives of people with disabilities, racial and ethnic minorities and immigrants, and low-income communities.
We challenge legislative attempts to enact laws legalizing assisted suicide.
Through litigation and policy development, DREDF establishes the right of children with medical conditions such as diabetes to receive appropriate care at school that is necessary to keep them safe.
2008-present
Taking On New Arenas | top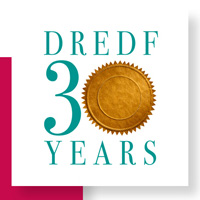 In 2008, the 'Disability and Media Alliance Project' is born.
30th Anniversary Celebration.
Major settlement with Netflix to provide captioning on all content by 2014.
In 2011, DREDF starts the Healthcare Stories video advocacy project.