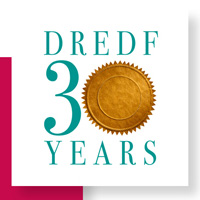 On August 26, 2009, nearly 300 guests gathered at the Four Seasons Hotel in San Francisco to celebrate DREDF's 30th Anniversary and pay tribute to the life and work of Senator Edward M. Kennedy. While we are deeply saddened by Senator Kennedy's death, it was a comfort to gather with friends and colleagues to remember and honor his legacy.
As our Master of Ceremonies, Michael E. Iskowitz, former Chief Counsel to Senator Kennedy, said, "[Senator Kennedy] loved DREDF very much – its mission and its people – and he would say that there is no better way to pay tribute to his memory than to celebrate DREDF and to support this organization in carrying the torch into a new dawn."
To the evening's sponsors and guests, and to all our supporters and friends, our deepest appreciation and heartfelt thanks for 30 years of commitment to social justice for the disability community.
Following opening remarks by Mr. Iskowitz, the program spotlighted DREDF's family advocacy with testimonies by DREDF clients, Jorge Flores and Jacqueline Jackson, father and grandmother, respectively, to children with disabilities.
DREDF Education Advocates provided free assistance to Mr. Flores and Ms. Jackson, and their children are now receiving the accommodations and services they need to thrive at school.
Though Congressman Patrick Kennedy (D-RI) could not attend as planned, we were honored to have Congressman George Miller (D-CA), Chairman of the House Education and Labor Committee, speak in place of his friend and colleague. Congressman Miller worked side by side with the Lion of the Senate for 35 years.
"Senator Kennedy was always a personal hero of mine. Over the past 35 years, the opportunity to work with him, to have him as a mentor and a friend has been immensely valuable to me. Along with the rest of the nation, I have great respect for his commitment, his courage, and his leadership in fighting for the most important causes of our time." – Congressman George Miller
Guests also shared memories of the late Senator and expressed condolences to his family on a poster of the evening's program. The poster was sent to the Kennedy Family following the event.
A video tribute to Senator Kennedy, produced by DREDF Executive Director, Susan Henderson, and DREDF Web Master, Dave Nold, followed.
[youtube http://www.youtube.com/watch?v=UYAKQvEmc2w]
Once again, thank you to our event sponsors and guests. Your support will help DREDF continue to pursue a more just, fair, and equitable society by providing civil rights advocacy for children and adults with disabilities.