Read the original article at Independence Today.
By Kathi Wolfe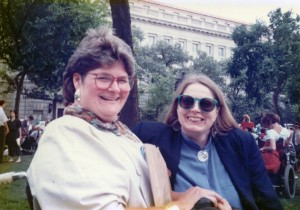 Having breast cancer is no picnic.
It wasn't a day at the beach five years ago, when Disability Rights Education and Defense Fund (DREDF) co-founder and senior policy advisor Mary Lou Breslin began outpatient chemotherapy for it. Breslin, who has polio and uses a wheelchair, was told that she had to lie down on a table to receive the treatment. The table, though, wasn't wheelchair-accessible, so she asked to be given a portable wheelchair lift. The clinic staff told her that, to comply with her request, she would have to be admitted as an inpatient to the hospital.
"The problem was that the (hospital) floor nurses didn't know how to administer the chemo," Breslin said. Finally, after four DREDF attorneys contacted the outpatient clinic, Breslin said, a lift was brought in and she was able to get the chemo that she needed. "What would somebody have done if they hadn't had access to four lawyers?" Breslin asked.
DREDF, a leading national civil rights law and policy center, marks its 30th anniversary this year. The disability rights group, headquartered in Berkeley, Calif., was co-founded in 1979 by Robert ("Bob") J. Funk and Patricia A. Wright. (Currently, Funk is executive director of Paraquad, a St. Louis center for independent living, and Wright is a DREDF consultant on special projects.)
The Disability Rights Education and Defense Fund's groundbreaking work propelled many of the advances in disability civil rights policy and law over the last three decades, from the well-known Americans with Disabilities Act to the more obscure Fair Housing Amendments Act.
Many people with disabilities currently experience instances of discrimination and inaccessibility in schools, their places of employment or other facets of society, Breslin said. "Yet, today, there are civil rights laws and (disability rights) legal resources, and there (usually) aren't written prohibitions against hiring people with disabilities."
When Breslin came to the San Francisco Bay Area in 1972, she wasn't involved in disability issues. "I was politically active on a lot of progressive issues, but I didn't have a way to analyze disability in the context of civil rights," she said. "It was a period when some city and county governments had written policies saying they wouldn't hire people with disabilities. Even if they didn't have this in writing, they wouldn't hire anyone (with a disability) because they couldn't see or imagine how they could be productive. Accommodation (in the workplace) was a new idea in those days."
In the 1970s, the idea of people with disabilities living independently in apartments or houses was almost unheard of and frightening to most non-disabled people, Breslin said. Accessible housing wasn't on the radar screen then. "There was real concern about blind people living alone or whether people in wheelchairs would wreck the house," she said.
Like others with disabilities during that period, Breslin wasn't yet connected with the disability rights movement then just emerging in California, St. Louis, New York and other parts of the United States. She grew up believing that people with disabilities should pull themselves up by "their bootstraps," Breslin said. The mind-set at the time was: "Don't ask for accommodation. Fall down the stairs if you need to. Pretend that you're not disabled. Eschew everyone with a disability."
Breslin's attitude changed when she worked in the disabled students placement office at the University of California at Berkeley from 1975 to 1978.
"I became politicized about disability in what felt like five minutes," she said. "There was an outpouring of federal (disability rights) legislation. The Education for All Handicapped Children Act (the predecessor to the Individuals with Disabilities Education Act) was enacted in 1975. The Developmental Disabilities Assistance and Bill of Rights Act became law, also in 1975. Section 504 of the Rehabilitation Act was passed in 1973."
The regulations implementing "Section 504" weren't signed into law until 1977 after people with disabilities demonstrated in San Francisco (by staging a monthlong sit-in that city's offices of the then-U.S. Department of Health, Education and Welfare) and in Washington, D.C. Section 504 prohibits entities such as hospitals and schools that receive federal funds from discriminating against people with disabilities.
Becoming a foot soldier in the Section 504 demonstrations gave her "a political context for my experience," Breslin said. "The demonstrations made it clear that it was possible to effect change (on disability issues) using traditional civil rights tactics. It coalesced around cross-disability issues."
The late George Musconi, then mayor of San Francisco, sent portable shower stalls to the HEW building for the demonstrators, and "labor unions and other political groups supported us," Breslin said.
The environment for people with disabilities at that time, when the first disability civil rights laws were passed, was "very volatile, in a good sense," she said. "It was a period of revolutionary change across the country." Despite what had been achieved by the demonstrations, "we could see (then) how much needed to be done down the road."
Having disability rights laws on the books is one thing. Ensuring that they're implemented and that people with disabilities know what the legislation means and how to access it is equally important, Breslin said. At the time, "there were a few excellent lawyers and groups, but there was no national legal organization focused on disability rights law and policy."
The modern disability rights movement took off during that period, Breslin said, because federal laws were passed that banned disability-based discrimination. "But to make laws productive, they must be implemented," she said.
In 1978, Breslin began working with the Center for Independent Living in Berkeley. The CIL had started a program called the Disability Law Resource Center (DLRC) to provide legal services for people with disabilities in the Bay Area. "Nobody was convinced then that people with disabilities needed legal services," Breslin said. "After '504′ was signed, the DLRC provided training (in the regulations)."
DREDF was established in 1979 after it was spun off from the DLRC. From the get-go, the group's mission was to "shape and form the evolution nationally of disability rights law and policy," Breslin said.
From its inception, the Disability Rights and Defense Fund has represented clients, Breslin said. "DREDF devotes about 10 percent of its time to direct client services," she said. For the other 90 percent, DREDF "tries to pick cases that would open a new door (around disability rights legislation) or advance a new (policy) issue," Breslin said.
An early example of DREDF's influence on the legislative landscape occurred during the first term of Ronald Reagan's presidency. A task force of then-Vice President George H. W. Bush wanted to rescind the 504 regulations, Breslin said. "They argued that (they) were too extensive," she said. "DREDF threw its resources into preserving the '504.' Before faxes and e-mail, DREDF ran a serious grass-roots campaign in support of (the regulations)."
DREDF worked with its Washington, D.C., contacts to protect the regulations. "C. Boyden Gray, then-White House counsel to Vice President Bush, played bridge with (the late Equal Employment Opportunity Commission chairman) Evan Kemp Jr.," Breslin said. "Eventually, the review of the 504 regs was halted." (Gray is now a member of the board of directors of the Atlantic Council.)
"This was a critical political accomplishment," Breslin said. "Saving 504 set the stage for passage of the Americans with Disabilities Act. The ADA is based on 504."
The Disability Rights and Education Defense Fund also has had a profound effect on the U.S. Supreme Court's understanding of disability. Historically, Breslin said, the Supreme Court "has seen disability as part of the 'medical model' — it viewed disability in terms of sickness and benefits. The court hasn't viewed disability as a civil rights issue. DREDF has played a key role in educating the court in getting (it) to view disability in terms of civil rights."
Susan Henderson has been executive director of DREDF since 1997. Though she had a leg amputated in 1977, "I didn't identify with the disability community or have a disability consciousness," she said. "I thought of myself as an amputee."
Henderson, who had studied anthropology, was managing a small progressive law firm and studying at night for an M.B.A. degree. As she moved forward in her career, she realized that she didn't want to practice law in the private sector anymore. After seeing an ad in a legal newspaper, she applied for a position at DREDF.
"I came in (to DREDF) for an interview, and I knew it was the place where I wanted to be for the rest of my life," Henderson said. "I'd grown up during the civil rights era, during a time of gay rights, women's rights, African-American, and other kinds of civil rights activism. I knew that human resources people were always trying to circumvent the ADA. It was upsetting to me."
When she interviewed at DREDF, Henderson didn't disclose her disability. "It seemed like an unfair advantage. So I never said anything."
One day, Henderson, who wears a prosthetic leg, was sitting at her desk. "It was really funny," she said. "I popped my left leg off and started rubbing a spot where it was hurting. Kitty (Cone, who has worked with DREDF off and on for years and is now a development consultant for the organization) started screaming to everyone in the office, 'She has a disability! She has a disability!'
"It's been an honor to work for DREDF," Henderson said. "I've learned a lot delving into our history during our 30th anniversary. You forget how involved we were in (securing passage) of the ADA."
Today, DREDF continues to work on many fronts of disability law and policy.
In September, DREDF went to trial with co-counsel Howrey LLP to represent the American Council of the Blind in a class-action lawsuit. The trial took place before Judge William Alsup at the U.S. District Court for the Northern District of California. According to a statement on the DREDF Web site, the suit was filed on behalf of ACB and 3 million blind and visually impaired plaintiffs because the Social Security Administration has failed to provide its communications in alternative format. At press time, the judge had not yet issued a ruling.
DREDF took the lead in the writing and research of a National Council on Disability report titled "The Current State of Health Care for People with Disabilities" that was released in September. "Getting a disability rights perspective in health care is a big issue," Breslin said. "It hasn't changed in 20 years. We're trying to tweak disability rights issues into the current health reform debate."
Other items on DREDF's busy docket include working to ensure that children with disabilities receive an appropriate education, working with foster children with disabilities, and working with the media, Henderson said.
Foster children with disabilities live with "the double stigma of having a disability and being in foster care," Henderson said. "Because of this, it's a tough sell to get foster kids to embrace their disability."
DREDF works to bridge the gap between foster care and the disability community, Henderson said. "Many social workers in the child welfare system don't know about what it means to have a disability, and many people in independent living centers don't understand about life in foster care."
The law can go a long way toward changing societal attitudes toward people with disabilities, but to truly create change, the media must be involved, Henderson said. "Just like GLAAD (the Gay and Lesbian Alliance Against Defamation) and the women's movement, we have to address the media as another arm of what we're doing."
People at DREDF work hard, Henderson said, "but they do it because they like it. They want to right wrongs."
The work of the Disability Rights Education and Defense Fund is known and felt widely. Millions have been trained in the 504 regulations, the ADA and other legislation by its staff. A few years ago, Henderson was at a conference in Dallas. "Mary Lou (Breslin) had taught some of the people there about (Section) 504," she said. "Our reputation precedes us."
For more information about DREDF, go to www.dredf.org.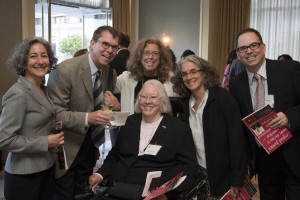 Click on the picture above to see the larger version
Who are these people (above)?
Click here for larger version
How many peope you recognize?
Kathi Wolfe is a writer and poet. She writes frequently on disability issues. Her recent book, "Helen Takes the Stage: The Helen Keller Poems," was published by Pudding House Press.