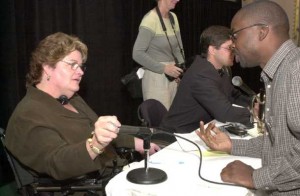 The idea to convene a group of international disability rights attorneys and advocates sharpened into focus during a conversation among a small group of us in 1999 as we sat around the conference table at the Berkeley, California office of the U.S.–based Disability Rights Education and Defense Fund (DREDF). While our work in the disability rights movement during the previous two decades had focused primarily on supporting and advancing domestic disability rights law and policy, throughout the 1990s we had also been meeting with delegation after delegation of international disability rights advocates visiting the United States. Most wanted to learn how the disability rights movement had come about, and how it had led to the enactment of the landmark 1990 Americans with Disabilities Act (ADA). Spurred by DREDF's role in the process leading to the enactment of the ADA, Pat Wright, DREDF's Governmental Affairs Director, Marilyn Golden, the organization's Policy Analyst, and I (one of DREDF's founders, serving as its Executive Director in the late 1980s, and working since then in a Jill-of-all-trades policy and advisory capacity) had also visited a total of 17 countries at the invitation of disability groups and organizations. We had participated in meetings and conferences focused on promoting a rights-based disability policy model, and we had consulted with people with disabilities and disability rights attorneys. In some countries we met with community groups and worked with them to develop ways to strengthen their institutional capacity for community organizing, organizational development and public relations. In other cases our colleagues also asked us to join them in meetings with political and government leaders whose support for anti-discrimination legislation they hoped to enlist or reinforce.
 
Through these experiences we learned first hand that people with disabilities, working city by city, country by country, region by region, were changing the way their governments and their societies responded to disability. They had built tremendous momentum toward the goal of establishing disability as a recognized individual and human rights issue in country-based laws, constitutions and legal instruments. Indeed, in many countries some form of disability rights law was in the pipeline or had already been enacted. Those of us who have had the privilege of meeting and working with advocates from abroad have come to appreciate the extraordinary tenacity and commitment of the disability community in so many countries. Furthermore, we also understood first hand some of the challenges they were facing as they struggled to turn their visions into reality because we had faced and continue to face similar ones in the United States.
 
Thus, our conversation turned to how we could draw on our expertise to support and contribute to this global phenomenon. We had learned from many of our international colleagues that they had had few opportunities to meet one another and to collaborate and exchange ideas specifically about disability anti-discrimination reforms. Apparently a meeting or conference focusing exclusively on country-based anti-discrimination law reform had never been convened, though the need for it had been discussed among many legal activists. Such an opportunity, we thought, would promote a much-needed discussion of basic theoretical and practical matters that legal advocates in every country were confronting. These included the role of prejudice in disability discrimination, theoretical underpinnings to the rule of law, how disability should be defined or redefined in a non-discrimination model, practical implementation issues related to accommodation, barrier removal, enforcement, and due process, the role of litigation, community organizing tactics, and education strategies. Such a gathering would also afford participants the opportunity to exchange information about their particular challenges, goals, strategies, and experiences, including failures as well as successes. Furthermore, we envisioned that it would foster a network through which everyone could exchange information and resources, seek feedback and support during the process of developing legislation and policies, and discuss evolving case law.
 
Organizationally, DREDF has helped shape most federal disability rights laws enacted in the United States during the previous two decades. We have also litigated cutting-edge disability rights education and access cases, and been called on by members of Congress, the disability community, and plaintiffs to write and consult on amicus curiae briefs in cases heard by the U.S. Supreme Court. Throughout, we have provided legal technical assistance, advocacy support and legal rights training to people with disabilities and parents of children with disabilities. This day-to-day contact has been essential for our understanding and development of adequate policy responses to real, everyday experiences. What we had to offer an international group of disability rights attorneys and advocates concerned lessons we had learned from the disability community, as well as insight from an ongoing analysis of the legislative, administrative and judicial history of the major U.S. disability rights laws and policies. We also had long-standing ties with other U.S. non-governmental organizations (NGOs), as well as government representatives and individuals working in the disability civil rights field, who could contribute important viewpoints. We recognized, however, that the U.S. experience represented only one perspective. Many nations had achieved important gains since 1990 and their experiences were equally vital to the dialogue. We had much to learn from one another. Our colleagues internationally, therefore, would become essential partners in the process of making the meeting both a reality and a success. They would be enlisted not only to help identify countries that had enacted disability anti-discrimination laws, but also to identify attorneys and advocates, and especially individuals with disabilities who would be interested in attending. Finally, they would be called on to help shape the meeting agenda so that it would address our collective needs.
 
While our concept percolated, we set about presenting it to friends and colleagues, exploring various options for funding. At the same time that we were envisioning the meeting, the U.S. Social Security Administration (SSA) was exploring ways to celebrate the tenth anniversary of the ADA scheduled for 2000. Thanks to the leadership and vision of two exceptional individuals within SSA, Marie Strahan and Susan Daniels, then the Deputy Commissioner, Office of Disability and Income Security Programs, SSA championed the idea of such a meeting as an exciting and effective way to celebrate the ADA's tenth birthday, and at the same time create an opportunity to support and facilitate the work of disability rights advocates working internationally.
 
SSA provided significant sponsorship for the meeting, later entitled "From Principles to Practice – An International Disability Rights Symposium," and they brought eight additional federal agencies on board as sponsor-partners: the Presidential Task Force on Employment of Adults with Disabilities, the President's Committee on Employment of People with Disabilities, The Department of State, the Center for Mental Health Services, the National Council on Disability, the U.S. Agency for International Development, the U.S. Information Agency, and the Office of Special Education and Rehabilitative Services. Private support was also provided by the Ethyl Louise Armstrong Foundation and the Interchurch Organization for Development Cooperation (ICCO).
 
Planning the Symposium
From the outset we envisioned the Symposium as a forum that would afford participants an opportunity to share strategies and solutions, build and strengthen regional networks, discuss complex and cutting-edge legal theories and questions, and share case law developments. However, the process of molding that broad concept into a real plan for action required the best efforts of a stellar ensemble.
DREDF's directing attorney, Arlene Mayerson had the initial broad vision for the Symposium's legal content. Pat Wright, who first raised the idea for a meeting, urged that practical concerns of non-lawyer advocates such as community organizing and coalition building be given appropriate attention and time on the agenda. Pat also served as DREDF's liaison with the Social Security Administration. Marilyn Golden added her expertise from the perspective of a seasoned and experienced substantive disability rights trainer and policy expert. We decided early in the process to commission papers that would present in-depth examinations of central themes that concerned everyone working for anti-discrimination reforms. It was serendipitous that Theresia Degener, a renowned expert in international disability anti-discrimination law and an attorney and professor of law in Germany, happened to be a visiting professor at the University of California, Berkeley's Boalt School of Law while the Symposium was being planned. She provided invaluable consultation, guidance and advice throughout the process, and also co-drafted with Gerard Quinn, Lecturer in Law, National University of Ireland, the seminal paper "A Survey of International, Comparative and Regional Disability Law Reform" for the Symposium.
As the planning process gained momentum Jenny Kern, an attorney and former director of Whirlwind Women, an international wheelchair building project of women with disabilities, joined the team to assist with outreach and planning. Deborah Doctor managed logistics and helped with development, and Silvia Yee, a Canadian attorney-consultant, undertook essential legal research and assisted DREDF to obtain the laws of the various countries, facilitated translations, and commissioned and supervised the creation of English summaries. Jane West, a Washington, DC-based education consultant and longtime friend and supporter, consulted, advised, encouraged, and facilitated throughout the process.
 
The Symposium
Approximately one hundred-fifty invited participants from 57 countries, including sponsor-observers, attended the Principles to Practice Symposium held in Washington, DC in October 2000. Attorneys representing diverse disability groups, including people with psychiatric and developmental disabilities and people with AIDS, participated as did faculty from various law schools, governmental representatives, policy experts, and researchers who focus their efforts on issues related to disability discrimination. Many who attended were also individuals with disabilities or parents whose children have disabilities.
 
The broad goals of the four-day Symposium were:
To launch an international working group of attorneys, policy and legislative experts, and individuals with disabilities who are working or wish to work for disability laws and policies in their respective countries;
To share ideas about laws and policies, enforcement mechanisms and approaches to reforms;
To discuss basic conceptual and legal principles that serve as the foundation for disability law and policy;
To identify specific strategies and tactics that will help advance legal reforms; and
To encourage ongoing communication that will enhance organizing capacity and establish closer ties between community and law reform advocates and lawyers.
Susan Daniels from SSA welcomed the participants. Justin Dart, Jr., a longtime national disability rights champion, also extended greetings as did Jonathan Young, then Associate Director for Disability for The White House, who welcomed the participants on behalf of President Bill Clinton, DREDF's Pat Wright and myself. The opening plenary session – simultaneously translated into four languages, as was the entire Symposium – set the stage for the days to follow with a presentation and discussion of the nature of prejudice as an underlying explanation of disability discrimination. Panelists from Kenya, Peru and the United States served as respondents.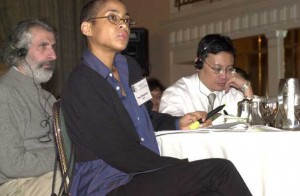 The first full day of the Symposium opened with presentations describing the state of disability law globally. In other sessions, models of equality were considered by panelists from Costa Rica, South Africa and the United States, and the definition of disability as it relates to disability rights protections was discussed by panelists from The Netherlands and the United States. Additional plenary topics included the challenge of reconciling the dissonance between medical and social policy models in anti-discrimination legislation, and the emerging right under international and U.S. law to community integration for people with disabilities living in institutions. Case law from the Organization of American States, the European Commission and the United States served as examples in the latter presentation. Effective community advocacy strategies were illustrated by case studies featuring India, Germany and the United States. The challenge of meaningful enforcement of anti-discrimination laws and policies were presented from the viewpoints of practitioners from South Africa, Hungary and the United States.
The Symposium also offered concurrent working groups on architectural accessibility, international development and civil society, transportation, employment under various social and economic circumstances, setting the goal of a UN convention on the rights of people with disabilities, and grassroots organizing and coalition building, and included "Open Space" sessions where participants could identify and discuss other topics of interest. Participants from Latin American, African, Pacific Rim and European Union countries used this opportunity to meet and strategize; others organized themselves around such topics as women's concerns and enforcement.
During the last day of the Symposium, participants met in regional groups to identify future needs and issues as well as ideas for collaboration. These recommendations, taken together with the outcomes of a written survey that asked participants to rank the relative importance of various issues for the future, informed the Symposium's final recommendations. Key recommendations fall into two categories: actions that the U.S. government should undertake and actions NGOs, other governments and the disability community should undertake.
Participants recommended that the U.S. government:
Provide leadership and commit resources to an international effort aimed at advancing disability law and policy;
Require that disability be recognized and specifically included in all internationally funded programs and initiatives but especially in those involving civil society, rule of law, citizen participation in government, and research concerned with human rights and equality;
Ensure compliance with disability non-discrimination principles and policies in all international operations and programs;
Encourage and participate in inter-governmental partnerships that support the local and regional law and policy reform initiatives of the disability community;
Develop materials and provide training for law and policy advocates and community activists in the areas of self-determination, strategies for initiating and participating in public debate, community organizing, and public education. These activities could be carried out in the context of current U.S.-supported international programs that do not presently include disability, or as new initiatives.
Other general recommendations aimed at NGOs, other governments and the disability community included:
Support for topical and general regional law and policy meetings, building on the network that began at the Symposium;
Establishment of an Internet-based information clearinghouse that would support attorneys and community members by providing disability laws, policies, guidelines, standards, sample judicial decisions, training materials, legal analysis, articles, enforcement models, disability discrimination-related research, links to affiliated sites, and related information;
Increased fellowship and exchange opportunities for attorneys, policy analysts and community advocates who wish to study the legislative and policy models, enforcement approaches, community education strategies, and successes of other countries;
Increased funds for targeted research that identifies obstacles to the advancement of laws and policies that challenge disability discrimination and that elucidate the need for such reforms.
After the Symposium
While much was already taking place internationally at the time the Symposium was held, it contributed to the momentum by spurring alliance building in a variety of locales. In Costa Rica, Dr. Federico Montero brought back ideas and inspiration that has led to the formation of Costa Rica's first umbrella coalition of cross-disability organizations (El Foro por los Derechos Humanos de las Personas con Discapacidad). In turn, El Foro is reaching out to and building ties with Symposium participants from other Central American countries.
Ireland hosted a one-day symposium on international disability issues in the spring of 2002 that was attended by Symposium participants from the United States and Asia. Several of the Symposium participants are now members of a new pan-European network of legal experts, recently formed under the European Commission's Social Action Programme to address disability discrimination.
 
DREDF staff continue to consult and work with advocates internationally, and we are building our web site with resources that the Symposium participants identified as important. Disability rights laws from over 45 countries are posted on the site. Short summaries in English are attached to each of the French and Spanish laws that we have listed in the Country Laws Index when a full English translation is not available. A list of Symposium participants and their contact information is also posted on the site as well as the papers that appear in this volume. In January 2002 DREDF established an international legal fellows program.
 
Conclusion
The articles in this volume, and the symposium for which they were produced, would not have been possible without the efforts of many committed, talented individuals. Marie Strahan and Susan Daniels, thank you for your whole hearted enthusiasm and your persistent efforts to raise the funds to ensure that the meeting was successful. Special thanks goes to the DREDF ensemble of staff, consultants and friends who have the highest standards of excellence and who always come through with an exceptional product – Arlene Mayerson, Pat Wright, Marilyn Golden and Jenny Kern for focusing us on substance and process; Silvia Yee for meeting the challenge of collecting the country-based disability rights laws and for meticulously editing the articles in this volume; Deborah Doctor for working with SSA's logistics contractors, and Susan Henderson for staying calm and managing a thousand details before, during and after the Symposium. Thanks too to Anna Bergman who managed the process of confirming participants, Cara Galbraith who, in consultation with Ken Stein collected vast amounts of materials in various languages for the gathering, and Wiltrud Harms, the librarian in charge of the United Nations Collection at Boalt Law School who contributed her expertise in the intricacies of UN documentation. Thanks also to Jane West, who worked with the authors of the articles prior to the Symposium, facilitated the plenary sessions, and kept us all on track.
 
Recognition is incomplete without thanking the authors of the articles themselves, without whose effort, expertise and commitment there would be no book. Thank you! Last but certainly not least, many thanks to John Berger from Transnational Publishers who saw value in this unusual volume and who remained patient and committed as deadlines came and went. It has been a pleasure and an honor working with all of you.
 
Degener and Quinn conclude the first portion of their paper with the observation that "This global overview of discrimination laws for persons with disabilities gives rise to both hope and concern. The concern is that not every instance of anti-discrimination language in legislation may actually achieve or even aim at equal rights for disabled persons. National and international disability organisations need to act as watch dogs to ensure that their legislators do not use anti-discrimination language as a pretext while fundamentally adhering to a medical model of disability policy. But there is also clear evidence that anti-discrimination legislation for disabled persons is on the rise all over the world. With that fact, persons with disabilities can have real hope that disability policy will finally achieve the ideals of human rights and structural equality."
We hope that this book will affirm the extraordinary accomplishments of disability anti-discrimination advocates, attorneys and others working for equality for people with disabilities around the globe. We also hope that it will inspire future activists and become a useful tool asthey face the challenges ahead.
 
Mary Lou Breslin
Disability Rights Education and Defense Fund (DREDF)
Berkeley, California, U.S.A.
April 2002