February 1, 2017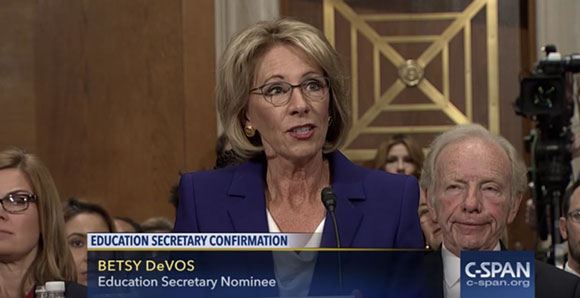 Let your senators know that Betsy DeVos' support for school vouchers will undermine the rights of students with disabilities under the IDEA.
January 31, 2017
The President and Congress are moving quickly to dismantle the Affordable Care Act (ACA), and major cuts to Medicaid and Medicare may not be far behind.
January 9, 2017
We must educate our Members of Congress before January 11th about why the ACA is so important to everyone, but especially to people with disabilities.
Disability Rights Groups and The State of California Reach Novel Settlement Agreement
DREDF Statement on Executive Order on Immigration and Refugees
Endrew F. vs. Douglas County School District
Johnny T. and Lihn N. v. Vy Chi Nguyen, MD, et al.
Ninth Circuit Takes California Department Of Education (CDE) To Task
National and State Data on Impact of Affordable Care Act
We are with you.
New Position Open at DREDF!
Welcome
The Disability Rights Education and Defense Fund (DREDF), founded in 1979, is a leading national civil rights law and policy center directed by individuals with disabilities and parents who have children with disabilities.
Blog
Universal Design, Accessibility and the Streets of Lima, Peru


December 16, 2016

-

Strolling through San Isidro, a municipality of Lima, Peru, you get the impression that they had accessibility in mind. Curb cuts on every corner, ramps leading into stores, restaurants and some private homes. And plenty of clearly marked blue spots for parking. I wonder how strictly the parking was enforced since when crossing the street I learned that Stop signs are more of a suggestion.



Architect Jaime Heurta gave a presentation at last month's RightsNow! Peru where he gives some background on what has been accomplished and the work that is still left to do.

SHAME ON YOU, ANDERSON COOPER: 60 Minutes Mocking the ADA


December 13, 2016

-



Under the auspices of doing a story on the anniversary of the ADA, Cooper and his team came to the birthplace of the disability movement, Berkeley, California, and talked to many who have benefitted from the ADA. They spent hours with two of the most honorable lawyers one will ever meet, Lainey Feingold and Linda Dardarian, who have done a world of good to make America more accessible to people with disabilities. Most of this change came about as a result of cooperative negotiations between these lawyers and the businesses seeking these clients as customers. From accessible ATM's where blind individuals can bank, to traffic lights with sound so blind pedestrians can safely cross the street, these negotiated settlements have allowed access to basic community life for the millions of blind Americans who had been deprived of the daily independence we all take for granted.

Feingold and Dardarian took the time to explain to Cooper and his CBS colleagues various successful ways to provide access for people with disabilities.  They rightfully expected a sound journalistic piece that would highlight these options. 

So, what did Cooper spotlight in his story on the ADA? A tempest in a teapot: a story about a few lawyers who file a lot of frivolous suits against small businesses. Even if this reporting were accurate (which I do not concede), those stories are at most a footnote to history: the story of how a large segment of our population fought against the unnecessary barriers and unexamined prejudice that excluded them from community life, and achieved inclusion. Cooper instead chose to make the successes of the ADA a mere footnote in his hatchet job of a piece.

I have been practicing disability law for almost 40 years, as the Directing Attorney of Disability Rights Education and Defense Fund, Inc. (DREDF). We were intimately involved in the passage the ADA in 1990, the first law in history protecting the civil rights of people with disabilities in order to reverse centuries of exclusion, segregation, and extreme prejudice against people with disabilities.  The stories Congress heard about how poorly people with disabilities have been treated in America resulted in a sweeping bi-partisan approval of the ADA. Since passage, we at DREDF have used the ADA to allow children with diabetes to attend school, to allow people who are blind and deaf to have access to the rapidly growing world of e-commerce and online education, to allow people who had no options other than institutionalization to live in the community with the rest of us, to allow people with disabilities access to basic health care barred by inaccessible offices and equipment, and so much more. The only reference to DREDF in the piece was a headless shot of our development director, Ingrid Tischer, using a walker. She did not volunteer to be used this way.

DREDF, Dardarian, and Feingold are not alone in our pursuit of justice for people with disabilities. The Disability Law Bar Association is comprised of over 250 lawyers who are among of the most honest, sincere, passionate, and skillful lawyers one could ever meet. These lawyers do the profession proud by using their skills to open doors that have been closed shut too long.

But Cooper would probably say (as you, the reader, might) that he was just "reporting" the fact that unscrupulous lawyers bring frivolous claims under the ADA to the detriment of small business owners. But, therein lies the problem that was all too evident in this election cycle — treating the outlier as the norm, the exceptional as the ordinary, and the abuse as the practice.

It does not require an exhaustive study of biased journalism to recognize the fact that selective reporting, even if based in truth, can serve the nefarious purpose of perpetuating an untrue impression. Take for example the widely reported story that a girl died after receiving the cervical-cancer HPV vaccine, while the fact that 1.4 million girls received the vaccine with only beneficial results goes unreported.  Whether it is called selective reporting or cherry picking, the 60 Minutes piece on the ADA took the rare abuse of the ADA and made it the story. That is a disservice to people with disabilities who finally have a civil rights law that challenges centuries old barriers and prejudice. The Americans with Disabilities Act is one of the most important advances in modern history; and it was presented as a scam. Shame on you, Anderson Cooper.

Anderson Cooper would be the first to call out Donald Trump's ridicule of a reporter with a disability with righteous indignation. Yet, on December 4, 2016, Cooper used the 60 Minutes broadcast to throw people with disabilities under the bus in the name of journalism. He used his power and prestige to denigrate the first comprehensive civil rights act on behalf of people with disabilities, the Americans with Disabilities Act (ADA) and the honorable lawyers that enforce it.  Cooper could not have been more successful if his intent was to lead the parade of horribles against the ADA. I suggest that presenting a skewed piece of journalism that serves only to undermine the first national law providing civil rights protections for people with disabilities is at least as harmful as mocking a reporter with a disability.
Memories from the 10th Anniversary
August 2015
In 1999 and 2000, the University of San Francisco, Access Video and DREDF conducted a series of interviews with some of the people who were central to the passage of The Americans with Disabilities Act of 1990 (ADA).
In June of 2015 DREDF began an ongoing project to provide audio description and open captions for this historic archival material and make it available to the public.
So far, thirteen videos have been completed.
We hope you'll find the videos valuable.
Follow the progress of the project via RSS

---
Support Our Work!
Donate Now!
Donate by Mail
Disability Rights Education & Defense Fund
Development Department
3075 Adeline Street, Suite 210
Berkeley, CA 94703
DREDF is dedicated to improving the lives of people with disabilities through legal advocacy, training, education, and public policy and legislative development. Your gift makes it possible for us to continue to protect and advance the civil and human rights of people with disabilities. Thank you.
DREDF is a non-profit, tax-exempt charitable organization under Section 501(c)(3) of the Internal Revenue Code. We manage and expend donated funds professionally and prudently. Donations are tax-deductible.
For more information contact Ingrid Tischer.
---
Recent eNews
Recent Special EDitions