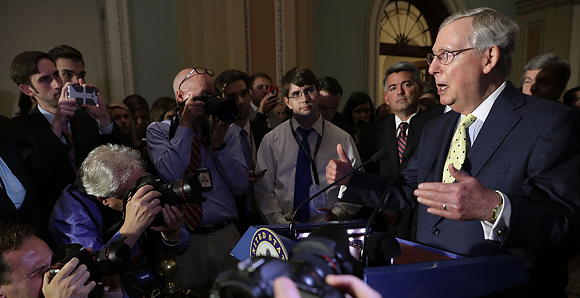 On Monday, June 26, the Congressional Budget Office (CBO) released their assessment of the draft Senate GOP health care bill and the news is as bad as expected. There will be a reduction of $772 billion in federal Medicaid spending, representing a 26% reduction for the program by 2026. That's right, instead of addressing concerns about the House bill released in May, the Senate opted to slash Medicaid funding. Worse yet, many GOP Senators have vowed to fight the bill as it is written, not because the cuts will harm millions of disabled Americans and other at risk populations, but rather because they feel the proposed cuts don't go far enough!
A chart on page five of the CBO report illustrates how the bill's anticipated federal deficit reduction will be placed on the backs of low-income senior citizens and disabled Americans over the next 10 years.To make up for the billions of dollars in budget revenue that the Senate healthcare bill gives away by repealing or delaying taxes on people with high income and fees imposed on corporate health insurers, Republican senators cut billions from Medicaid funding.
That means low-income individuals and families of all ages will have to pay more money for less coverage but already wealthy people and corporations will get a tax break.
What do Medicaid providers thinks about the Senate GOP plan? Not much. The National Association of Medicaid Directors—a bipartisan nonprofit—issued a statement also critiquing the GOP Senate bill saying that "no amount of administrative or regulatory flexibility can compensate for the federal spending reductions that would occur as a result of this bill" and as a result, unanimously deemed the projected per capita cap growth rates for Medicaid in the Senate bill "insufficient and unworkable."
The People's Filibuster of Trumpcare: Save Our Care
The Center for Public Representation is urging activists in the DC area to join "The People's Filibuster of Trumpcare: Save Our Care" in Three Key Moments for Turnout!
Tuesday, June 27:
The People's Filibuster Launches @ 2pm EST
Invite your members, staff, etc. to join us at 2pm EST in Section 9 (see map on The Center for Public Representation's website) for the kick off of the Filibuster!
Wednesday, June 28:
Hug the Senate Action – Evening (Exact time TBA)
Activists will be forming a human chain around the Senate building, holding up photos of the people whose stories have been shared over the course of the week, a moment of silence for those who will be harmed. Friends in the faith community are organizing a vigil from Wednesday at 3pm to Thursday at 3pm and advocates are ecouraged to support this as well.
Thursday, June 29:
Rapid Response Rally 3-7pm EST.
Hours before the vote on the Senate GOP bill is expected to take place is the moment to turn out in front of the capitol. Bodies needed!
Sharing Your Story Online
Even if you can't be physically present in DC this Tuesday, Wednesday, and Thursday, it's still possible for YOUR organization to "hold court and join the filibuster" and to "share your story, your friends or family member's story, or read one of the thousands of stories submitted from across the country from people whose lives are on the line as a result of this dangerous legislation." You'll be joined by members of Congress, activists, organizational leaders, healthcare providers and more.
Ask members and staff of your organization, friends, family, and colleagues to sign up to share stories and testimonies. Stories will be provided if you do not have your own, but we encourage you to collect concerns and experiences from your communities and bring them with you if you can.
And no matter where you are, don't stop calling or contacting Senate offices both in DC and your area!
Contact information for GOP Senators in key states:
Alaska
Senator Lisa Murkowski (R-AK)
Phone numbers:
U.S. Capitol: (202) 224-6665
Anchorage: (907) 271-3735
Fairbanks: (907) 456-0233
Juneau: (907) 586-7277
Wasilla: (907) 376-7665
Kenai: (907) 283-5808
Ketchikan: (907) 225-6880
Email: https://www.murkowski.senate.gov/contact/email
Web: https://www.murkowski.senate.gov/
Facebook: https://www.facebook.com/SenLisaMurkowski/
Twitter: @lisamurkowski

Arizona
Senator Jeff Flake (R-AZ)
Phone numbers:
U.S. Capitol: (202) 224-4521
Phoenix: (602) 840-1891
Tucson: (520) 575-8633
Email: https://www.flake.senate.gov/public/index.cfm/contact-jeff
Web: https://www.flake.senate.gov/public/
Facebook: https://www.facebook.com/senatorjeffflake
Twitter: @JeffFlake
Senator John McCain (R-AZ)
Phone numbers:
U.S. Capitol: (202) 224-2235
Phoenix: (602) 952-2410
Prescott: (928) 445-0833
Tucson: (520) 670-6334
Email: https://www.mccain.senate.gov/public/index.cfm/contact-form
Web: https://www.mccain.senate.gov/public/
Facebook: https://www.facebook.com/johnmccain/
Twitter: @SenJohnMcCain

Colorado
Senator Cory Gardner (R-CO)
Phone numbers:
U.S. Capitol: (202) 224-5941
Colorado Springs: (719) 632-6706
Denver: (303) 391-5777
Durango: (970) 415-7416
Fort Collins: (970) 484-3502
Grand Junction: (970) 245-9553
Greeley: (970) 352-5546
Pueblo: (719) 543-1324
Yuma: (970) 848-3095
Email: https://www.gardner.senate.gov/contact-cory/email-cory
Web: https://www.gardner.senate.gov/
Facebook: https://www.facebook.com/SenCoryGardner
Twitter: @sencorygardner

Maine
Senator Susan Collins (R-ME)
Phone numbers:
U.S. Capitol: (202) 224-2523
Augusta: (207) 622-8414
Bangor: (207) 945-0417
Biddeford: (207) 283-1101
Caribou: (207) 493-7873
Lewiston: (207) 784-6969
Portland: (207) 780-3575
Web: https://www.collins.senate.gov
Email: https://www.collins.senate.gov/contact
Facebook: https://www.facebook.com/susancollins
Twitter: @senatorcollins

Nevada
Senator Dean Heller (R-NV)
Phone numbers:
U.S. Capitol: (202) 224-6244
Las Vegas: (702) 388-6605
Reno: (775) 686-5770
Email: https://www.heller.senate.gov/public/index.cfm/contact-form
Web: https://www.heller.senate.gov/public/index.cfm/home
Facebook: https://www.facebook.com/SenDeanHeller/
Twitter: @SenDeanHeller

Ohio
Senator Rob Portman (R-OH)
Phone numbers:
U.S. Capitol: (202) 224-3353
Cincinnati: (513) 684-3265
Cleveland: (216) 522-7095
Columbus: (614) 469-6774
Toledo: (419) 259-3895
Email: https://www.portman.senate.gov/public/index.cfm/contact-form
Web: https://www.portman.senate.gov/public/index.cfm/home
Facebook: https://www.facebook.com/senrobportman
Twitter: @senrobportman

West Virginia
Senator Shelley Moore Capito (R-WV)
Phone numbers:
U.S. Capitol: (202) 224-6472
Beckley: (304) 347-5372
Charleston: (304) 347-5372
Martinsburg: (304) 262-9285
Morgantown: (304) 292-2310
Email: https://www.capito.senate.gov/contact/contact-shelley
Web: https://www.capito.senate.gov/
Facebook: https://www.facebook.com/senshelley
Twitter: @sencapito